Simon M. Shubitz Cancer Prize and Lectureship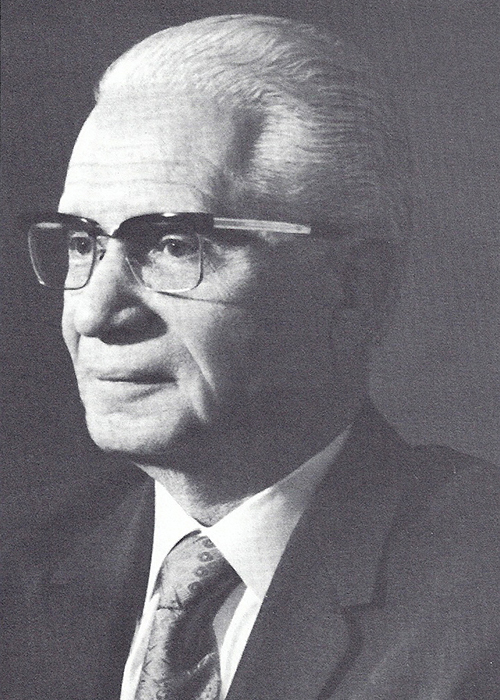 Since 1978, the Simon M. Shubitz Cancer Prize and Lectureship has recognized excellence in cancer research and brought to the University of Chicago internationally respected scientists who have made significant contributions to the study of cancer. The award is named in honor of Simon M. Shubitz, MD, a distinguished alumnus known for his dedication as a physician and his efforts as a humanitarian and philanthropist.
While originally presented biannually, the Comprehensive Cancer Center and the University of Chicago Cancer Research Foundation now present the award annually.
"The truly great physician is the one who meticulously searches, teaches, and heals. That ideal physician is the true Laureate of Medicine from whom we can learn, and whose presence will inspire us all."
– Simon M. Shubitz, MD
2018 Shubitz Award Recipient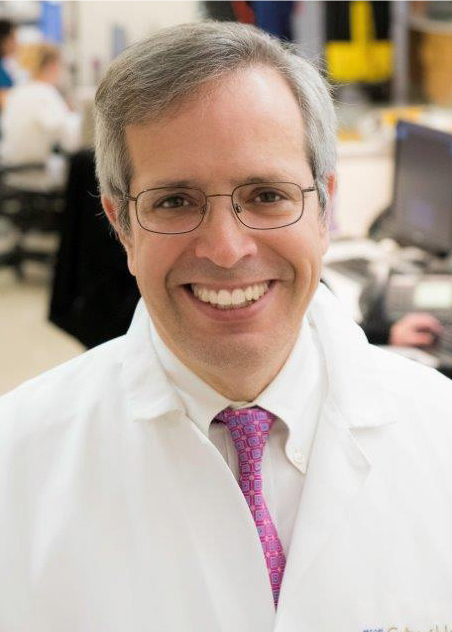 Michael A. Caligiuri, MD, President of the City of Hope National Medical Center in Los Angeles California.  He also holds the Deana and Steve Campbell Physician-in-Chief Distinguished Chair.
Prior to his appointment at City of Hope in February of 2018, Dr. Caligiuri was The CEO of The Ohio State University (OSU) James Cancer Hospital (2008-2017) and Director of OSU's Comprehensive Cancer Center (2005-2017); he had been the Director of OSU's Division of HematologyOncology from 2000 through 2008.
Caligiuri is a physician – scientist whose clinical work is focused in leukemia and lymphoma. His laboratory has evolved to investigate:
Development and normal role of the body's large granular lymphocytes called natural killer cells so as to exploit their properties in an effort to develop effective therapies against cancer;
The molecular basis for the development of acute leukemia. His lab studies the pathogenesis of acute leukemia, the prognostic significance of molecular defects in acute leukemia, and novel immune and targeted therapies for acute leukemia.


Past Recipients

2017 – Arul M. Chinnaiyan, MD, PhD, University of Michigan
2016 – James R. Downing, MD, St. Jude Children's Research Hospital, Memphis, Tennessee
2015 – Lewis C. Cantley, PhD, Meyer Cancer Center, New York
2014 – Nancy Davidson, MD, University of Pittsburgh Cancer Institute and UPMC Cancer Center
2013 – Todd Golub, MD, Dana-Farber Cancer Institute, Boston, Mass.
2012 – Joe Gray, PhD, Oregon Health & Science University, Knight Cancer Institute, Portland
2011 – Charles L. Sawyers, MD, Memorial Sloan-Kettering Cancer Center, New York
2010 – Irving L. Weissman, MD, Stanford University, Palo Alto, Calif.
2009 – Margaret R. Spitz, MD, MPH, The University of Texas MD Anderson Cancer Center, Houston
2008 – Brian J. Druker, MD, Oregon Health and Science University, Portland
2007 – Craig B. Thompson, MD, Abramson Cancer Center of the University of Pennsylvania, Philadelphia
2006 – Tyler E. Jacks, PhD, Howard Hughes Medical Institute, Cambridge, Mass.
2005 – Stephen B. Baylin, MD, The Johns Hopkins University School of Medicine, Baltimore, Md.
2004 – Ronald M. Evans, PhD, Howard Hughes Medical Institute, La Jolla, Calif.
2003 – Frank McCormick, PhD, FRS. University of California, San Francisco
2002 – John Mendelsohn, MD, The University of Texas, Houston
2001 – Peter A. Jones, PhD, University of Southern California, Los Angeles
2000 – Alexander Varshavsky, PhD, California Institute of Technology, Pasadena
1999 – Mary Claire King, MD, University of Washington, Seattle
1998 – Albert de la Chapelle, MD, PhD, The Ohio State University, Columbus
1997 – Stanley J. Korsmeyer, MD, Washington University, Saint Louis
1996 – Elizabeth H. Blackburn, PhD, University of California, San Francisco
1995 – Arnold J. Levine, PhD, Princeton University, N.J.
1994 – Raymond L. White, PhD, University of Utah, Salt Lake City
1993 – Michael B. Sporn, MD, National Cancer Institute, Bethesda, Md.
1992 – Leland H. Hartwell, PhD, University of Washington, Seattle
1991 – Lance A. Liotta, MD, PhD, National Cancer Institute, Bethesda, Md.
1990 – Robert T. Schimke, MD, Stanford University, Calif.
1989 – Robert A. Weinberg, PhD, Massachusetts Institute of Technology, Cambridge
1988 – Steven Rosenberg, MD, PhD, National Cancer Institute, Bethesda, Md.
1987 – Thomas A. Waldmann, MD, National Cancer Institute, Bethesda, Md.
1986 – Philip Leder, MD, Harvard Medical School, Boston
1985 – Robert C. Gallo, MD, National Cancer Institute, Bethesda, Md.
1984 – Harold E. Varmus, MD, University of California, San Francisco
1982 – Judah Folkman, MD, Harvard Medical School, Boston
1980 – Peter C. Nowell, MD, University of Pennsylvania, Philadelphia
1978 – Bruce N. Ames, PhD, University of California, Berkeley